Why You Should Buy PCP Car Finance
There are so many ways out there these days to buy a new car, which means you don't necessarily need the upfront full value to have a new car in your driveway. But where do you start? There are regular personal loans from credit unions and banks, and then you have the hire purchase option where you pay a deposit and monthly repayments until you own the car. But now there's the incredibly popular PCP (Personal Contract Plan) option also.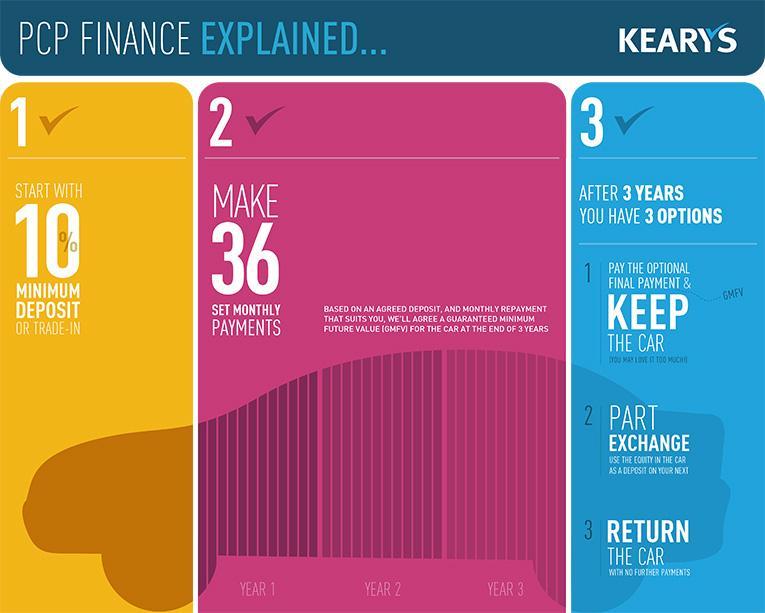 PCP Car Finance In Ireland Explained:
How do we know what's best? You could be missing out the deal of your life and not know it. Well that's why we at Kearys are here to explain why PCP may be the way to go for you.
If you want your family in a car with the newest safety features, if you are a young person starting off in a new job and want the car to match, if you are a sports car fanatic and want to have one for your daily driving pleasure or if you simply want a new reliable stylish car, then PCP could be the right choice for you. If you want an easy but tailored option, then yes, you are in the right place.
Step 1: Choose your ideal car, the one that matches your needs and is made for you.
Step 2: Choose your repayment period; let's say 36 months.
Step 3: What's your annual mileage? 18,000km? Tell us and we can help.
Now Kearys steps in. We will tell you the minimum value for your car at the end of the term, and this value is guaranteed! We will then decide on the deposit, which can range from 10% to 30%, as well as your monthly repayments.So when the contract ends, you have 3 options
You can trade in the old car for a new one using the equity
You can keep it (if you just love it too much) by paying the optional final repayment
Or you can simply hand back the keys and walk away. Really!
So, In General; Why Should We Go PCP?
Regular car changes
Reduced regular repayments
You spend less on repairs and maintenance - as you always have a new car
Guaranteed future value
Some things to bear in mind; when choosing the right PCP option for you make sure that you estimate your mileage realistically as you will be charged a small feefor any extra kilometres driven. You should also check out what else is available to you, perhaps there are service deals you can benefit from including in the deal.
No matter how small your budget or what car you want, there is a PCP option for you here at Kearys. Visit our finance section to find out more, or give us a call where you could arrange to speak to one of our finance team.