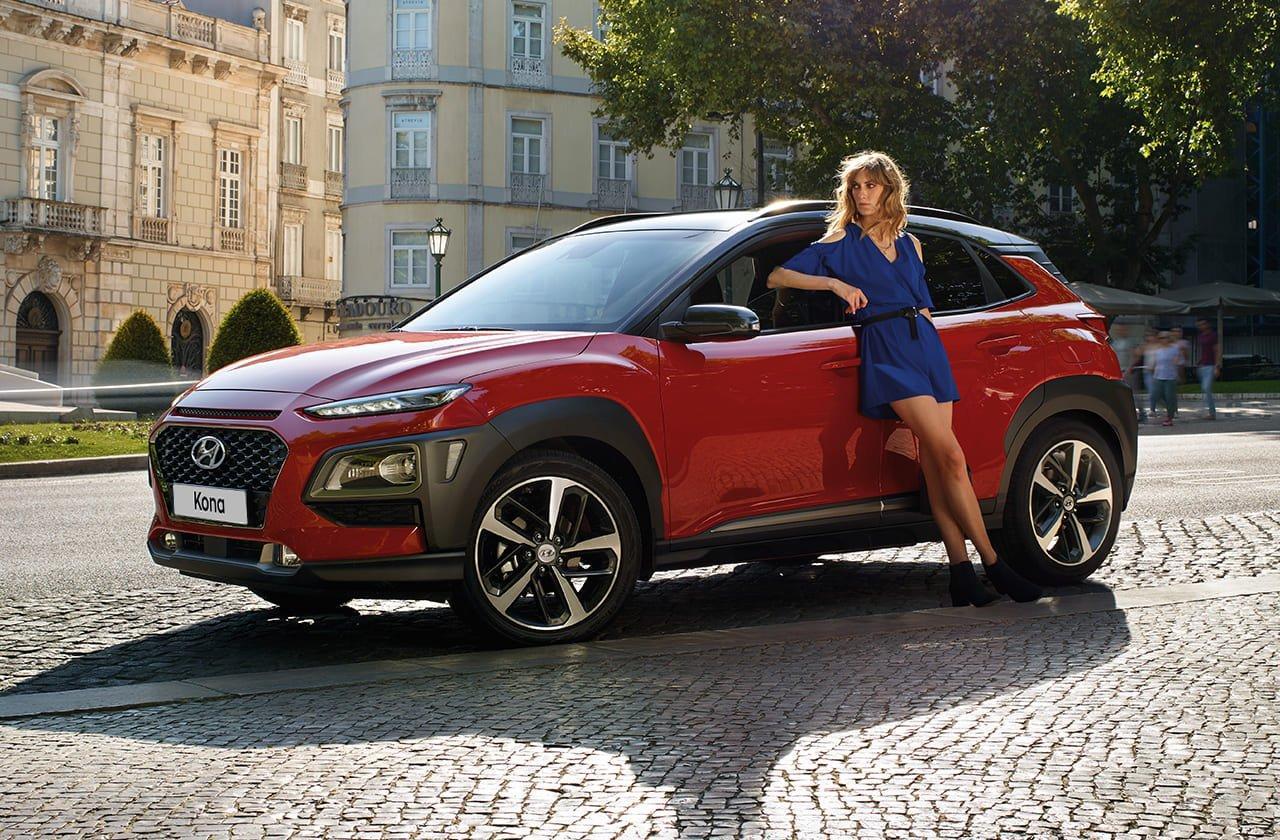 Minivans are so passé. If you want your family-haulier to fit in with the cool crowd, you need an SUV. But maybe you feel a sport utility is too big, or too rugged. Never fear – the all-new Hyundai Kona is here. This small SUV is the right size for big utility and even bigger adventure.
What's new for 2018?
The Hyundai Kona is an all-new model for 2018.
One-of-a-kind design
Let's face it, most SUVs look like jacked-up jellybeans. It's impossible to distinguish one from the other – unless you're looking at the Kona. Hyundai's svelte little 'ute, showcases bold body lines and slanted headlights. Available LED lighting front and rear gives it a modern look.
Once you've gotten past the Kona's striking exterior, you can take time to appreciate the interior. High-quality materials are everywhere, along with thoughtful touches like heated front seats and a leather-wrapped steering wheel.
If you really want to make an impression on your passengers, opt for the lime green exterior. It's paired with an equally lime green interior.
For 2018, the Kona is available in 5 trim levels available: S, SE, Premium, Premium SE and Premium GT. Premium level models are available with a two-tone roof.
Turbocharged driving experience
Utility and practicality are essential – but it's also important to have a little fun. The Kona is willing and able to put a smile on your face, whenever needed. It's offered with two peppy petrol engine options: a turbocharged 1.6L four-cylinder and a turbocharged 1.0L four-cylinder. The latter puts 120 hp and 172 Nm at your foot while also providing unapparelled economy. Transmission options include either a 6-speed automatic or an advanced 7-speed dual-clutch automatic.
When you have to venture out in the snow and rain, the Kona is ready with available all-wheel drive. This system sends traction to all four wheels as needed, improving safety and performance in foul weather.
Digital age convenience
Tired of passengers laughing at the cd player (or maybe even cassette player) in your current vehicle? Then you're due for an upgrade with the Kona. It's shock full of technology for the digital age.
To start, there's a tablet-like infotainment display integrated into the dash. Upon request, it can quickly summon median and navigation. Whoever is driving the Kona will also enjoy the head-up display and wireless smartphone charging.
Safety you can count on
Technology has brought us a lot of interesting gadgets. From smart toasters (yes, really) to sleep monitors that count your z's. But one of the most important applications of modern tech is safety. The Kona proves this with a suite of advanced safety functions. The lineup includes features like automatic emergency braking, lane keeping assist and blind-spot monitoring.
Visit Kearys Motor Group
The 2018 Hyundai Kona should be hitting showrooms as you read this. Be one of the first to check out this revolutionary new machine, coming soon to Kearys Motor Group.
Of course, there's no need to wait until the Kona arrives. Stop by anytime – we have a large selection of incredible Hyundai SUVs waiting to be test driven.